About Alpacas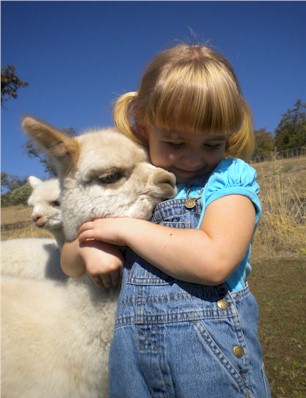 Alpacas are Huggable

Alpacas originated in the Andes Mountains of South America (southern Peru, western Bolivia, Ecuador, and northern Chile).

Alpacas have been domesticated for thousands of years. The Moche people of northern Peru often used alpaca images in their art. There are no known wild alpacas, and their closest living relative, the vicuna and wild guanaco (also native to South America. Both are believed to be wild ancestors of alpacas. Alpacas are larger than vicunas, but smaller than Llamas.

The first alpaca was thought to have developed about six thousand years ago from the domestication and breeding of the vicunas and guancos. Mummified remains of alpacas, which have been dated to about a thousand years ago, have been discovered in Southern Peru. Many alpaca remains were buried in the floors of houses for prosperity, and offering to their Gods.


Alpacas are intelligent and easily trained animals, and gentle enough to be handled by children. They hum when pleased or happy and spit when they are not. They make very good pets and companion animals, but don't like being alone. Alpacas are also easy to care for, and gentle on pastures with their hoof-padded feet.



Alpaca Basics from Alpaca Association New Zealand

During the 17th Century Spanish Conquest in Peru, 90% of the people and animals (including alpacas) perished, but the Quechua people were able to prevent the alpacas from total extinction, by relocating to higher altitudes. Today, Peru's alpaca population numbers more than 3 million, with more than: 300,000 in Bolivia, 30,000 in Chile, 30,000 in Canada, 160,000 in Australia, 40,000 in New Zeland, 40,000 in England, 20,000 Germany, 10,000 in other parts of Europe and over 200,000 in the US.

In South America alpacas are considered national treasures, and the export of alpacas was banned. For instance, a Peruvian selling alpaca abroad could be sentenced to up to 10 years in prison. However, in 1983 it became legal to export alpacas from South America, and quickly national herds across the planet started to grow.

In the 1990's alpacas became popular and by 2005 alpaca females were sold at prices between $8,000 US to $60,000 US, and Studs could be sold as high as $500,000 US. However, after the banking collapse of 2008 alpaca prices steadily dropped for a number of years.

Today, the alpaca industry is moving forward into a new phase where their prices are based mainly by the value of their fiber and compete with high end Goat and Sheep fibers.

Alpaca products are now being sold and distributed globally. Alpaca fleece is used worldwide in a variety of finished goods. Alpaca fiber is washed, carded, spun and can be made into yarn for knitted and woven items such as blankets, sweaters, hats, gloves, scarves, sweaters, socks, coats, etc. Marketing plays a huge role in a successful alpaca farm and each animal varies in price based primarily on quality; ancestry, progeny, and the quality of the animal's fiber are all considerations.

Alpacas, llamas, guanacos, and vicunas and the Bactrian (2 - humped) and Dromedary (1 - humped) camels are all members of the camelid family. Alpacas are smaller than llamas and have a more luxurious fleece; Alpacas cannot be used as pack animals, or raised alone as they are prone to die of loneliness. An adult alpaca is generally between 32 to 39 inches tall at the shoulders and weigh between 100 - 185 lbs. Alpacas have a lifespan of between 18 -24 years.

Alpacas and llamas can successfully cross-breed. The resulting offspring are called huarizo, which are valued for their unique fleece and gentle dispositions.

Females start breeding at 2 to 3 years old. Their offspring, called cria, are born after an average gestational period of 11.5 to 12 months. Crias birth weight can range from 10-20 pounds and a newborn cria can stand 30 minutes to 1 hour after birth. Female adults typically wean their cria between 6 to 12 months. Human intervention and separation of mother and cria at 6 months is typical.

Alpacas come in many different colors, including white, fawn, brown, grey, and blacks. Many are a solid color but some are spotted. They are intelligent, easily trained, and are often gentle enough to be handled by children. They hum when pleased or happy and sometimes spit when they are not. Alpacas are also easy to care for, and gentle on pastures with their hoof-padded feet. Their fiber has an absence of wool grease or lanolin that is characteristic of sheep. Alpaca fiber also retains dyes without losing its sheen and can be blended with other natural or synthetic fibers.

Alpacas are able to withstand cold temperatures because of their dense fleece. This fleece is more than just for warmth though; it is one of the primary purposes for raising alpacas. Their fleece can most closely be compared to cashmere. It is hypoallergenic, lightweight (due to a hollow cuticle of each fiber), strong, incredibly warm, and very soft (15 - 45 microns). They do not need to be slaughtered to reap their product as their fiber is a renewable resource that is sheared (similar to sheep) each year.





Alpacas Associations